Go Transit extending into Clarington. There will be 2 new stations in Oshawa 1 in Courtice and 1 in Bowmanville. This will open up so many more opportunities in Durham.
UPDATE: Province extends GO train service into Clarington
Four new GO stations to be built: two in Oshawa, one in Courtice and another in Bowmanville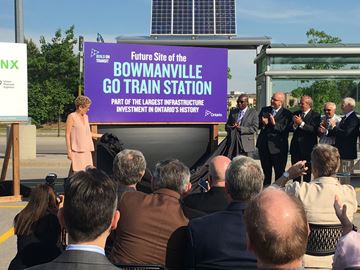 GO trains coming to Clarington
CLARINGTON -- Ontario Premier Kathleen Wynne announced Province's GO train service will be extended into Clarington. The expansion will include four new GO stations -- two in Oshawa and two in Clarington. The service should be operational in 2023-24. June 20, 2016
Clarington This Week
BOWMANVILLE – The Province has given the go-ahead to extend the Lakeshore East GO train line nearly 20 kilometres through to Courtice and Bowmanville.
Premier Kathleen Wynne made the announcement alongside the Minister of Transportation Steven Del Duca and Liberal Durham MPP Granville Anderson in Bowmanville this morning.
"The GO train can not keep turning back when it gets to Oshawa," said Premier Wynne.
The new GO rail service along the Lakeshore East corridor is expected to begin by 2023-2024. It will offer four a.m. and four p.m. trips from Bowmanville to Oshawa.
GO currently provides bus service between Oshawa and Bowmanville every 30 minutes, with increased frequency at peak hours.
Four new stations will be built to extend service east, including two new stations in Oshawa. One at Thornton Road and the other at Ritson Road. The Courtice station will be built on property off of Courtice Road and Bowmanville's will be constructed at the site of today's announcement, on Martin Road.
"These new GO stations are going to make things easier for people all-around," said Premier Wynne.
Ontario is working with CP Rail on infrastructure and service planning for the extension. A portion of GO service on that Lakeshore East line would use CP's existing corridor north of Hwy. 401.
"The building of an overpass over 401 will be the biggest piece of construction," explained Minister Del Duca.
He said the Province is in negotiations with CP on the project and once the deal is finalized there will be a better understanding of when construction will begin on this $700 million project.
"This is a great day for our community and for communities surrounding Clarington," said Mr. Anderson. "We are transforming Clarington from a bedroom community to a growth community where there will be real employment opportunities. People will be able to live and work here."
Durham Regional Chairman Roger Anderson was also on hand for the announcement.
He said quality of life will be improved for so many Durham residents when the GO train begins operating east of Oshawa.
"It's not just about getting in and out of the city," said Chairman Anderson. " It's about getting back to your family."
"The fastest part of the commute right now is the on-ramp," said Clarington Mayor Adrian Foster.
He said he hopes to have shuttle buses operating soon at the future Courtice GO station so people can park and get bused to the existing Oshawa station and get a feel for their future commute.
source= http://www.durhamregion.com/news-story/6731398-update-province-extends-go-train-service-into-clarington/