What do we want from our gardens? The modern designed landscape has become increasingly immersive and experiential: a place in which to relax, but somewhere to work and produce, too. Luxury gardens all over the globe continue to evolve, steered by the ebb and flow of landscaping trends and climactic influence.
Award-winning US landscape architects Nelson Byrd Woltz sum it up beautifully by describing the contemporary garden as a "performance-driven marriage of aesthetics and productivity." And just as the architecture of buildings is informed by cultural trends and changing social priorities, so too is garden design. Landscaping trends metamorphose less dramatically, but there are clear patterns. Climate and location are hugely influential, as are the exquisite show gardens created for leading plant expos. Trends can also be shaped by what can no longer be planted – England's public gardens have become vulnerable to new plant diseases, while drought in Australia demands alternative landscaping solutions.
So, where are we now? What do our garden-makers have in mind? Of all the trends asserting their presence, there is no doubt that sustainable or "resilient" gardening is a global priority. While an unlimited budget can create a heavenly estate, it cannot prevent drought or control tropical storms. The younger generation of upscale homeowners is increasingly aware that their gardens must work within the greater landscape, and today's landscape architects are thinking far beyond paths and plants. Here are the trends shaping today's domestic oases.
Mindful gardening
The planting mantra "right plant, right place" has never been more relevant. In its simplest terms, this is a form of "gardening mindfulness," combining native or indigenous planting with rainwater harvesting, solar-powered services, and productive areas.
On the Caribbean island of Nevis, designer Julie Toll has been creating gardens for the past 18 years. Gradually, she has moved her clients away from the vibrant pops of saturated color associated with luxury hotel gardens to a softer, more naturalistic plant palette that doesn't require year-round irrigation. Her approach is also less vulnerable to the torrential rain that accompanies the Caribbean's regular tropical storms.
"It was exciting to start working with native vegetation," she says. "Tropical shrubs are chunky, and it can be a challenge to introduce interesting textural contrasts and vertical accents – all the elements you would consider in a traditionally designed garden. But it's important not to make Caribbean gardens too complex." Toll uses lots of evergreen foliage, dramatic specimens of yucca and aloe, hardwood trees such as mahogany, and plants that flower between November and March when island life is at its liveliest.
In Australia, meanwhile, two leading landscape architects are passionate advocates of drought-resistant gardening, albeit in two very different ways. Taylor Cullity Lethlean (TCL) created the Australian Garden at the Royal Botanic Gardens in Cranbourne, Victoria, and Kate Cullity is adamant that the modern Australian garden should be drought-ready. "The Aboriginal people did not necessarily see drought as an adversity – it was just part of the rhythm of the environment," she observes. "We need to look at the inspiration of the natural landscape of Australia and imbue that into our gardens."
While TCL adopts a deliberately artistic approach, Melbourne-based Sam Cox treads a gentler path. "We look to emulate nature… using natural materials in a natural sense," he explains. Cox's own garden epitomizes his approach: the lushly planted space features local plants and materials, alongside boulder outcrops and naturally filtered ponds.
And in Europe, in the south of France, garden designer James Basson takes an equally uncompromising approach. "We use native plants to create the body of a garden, then add around a third of mixed non-natives to extend the flowering season," he says. "We like to work with materials already on site, or those that are locally sourced, so that the garden sits in harmony with its surrounding landscape."
Basson's Gold Medal-winning show garden at the RHS Chelsea Flower Show in London this year encapsulated his approach – a sensory garden as imagined on the edge of a lavender field in Provence, created for French beauty brand L'Occitane. "To create native landscapes, it's important to use a large variety of plant species," he advises. "And you need to isolate a few dominant species so there's a simplicity to it. We often use bands of vegetation to create a structured rhythm through a complex planting scheme."
Fashion and ornament
Even luxury gardens, created to last for generations, can flirt with fleeting fashion. Rusted metal continues to add a vibrant edge to town and country gardens, often as freestanding sculpture or in the form of COR-TEN steel panels. In the US, UK, and Hong Kong, both Nelson Byrd Woltz and Andy Sturgeon use COR-TEN in ever more exciting ways.
And just as fashion catwalks love "this season's color," garden shades come into vogue with different seasons. Yellow looks set to return to our outside spaces this year and next, mostly in a zingy sulfur or a mellow buttery hue. It needs careful placing, but yellow contrasts beautifully with indigo blue and burgundy, and complements shades as diverse as silver gray, lime green, and tangerine.
Conceived by the French botanist and artist Patrick Blanc, living walls continue to evolve and excite designers. Blanc's vertical gardens have graced the Pérez Art Museum Miami, the New York Botanical Garden Orchid Show, and One Central Park in Sydney. Green walls need expert plant selection, regular irrigation, and fastidious maintenance. But, if professionally installed and meticulously managed, a living wall will always be a showstopper.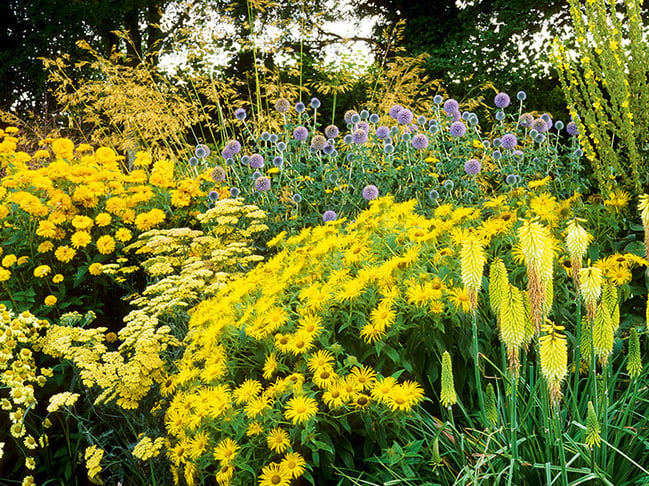 Permanence
Shrubs have come back in from the cold, metaphorically speaking. In a city like London, homes near the center often have fairly compact gardens, which can be taken in in a single glance. Well-shaped shrubs are essential here, for year-round structure and definition.
"In an urban home, the garden must reflect the interior finish," says award-winning garden designer Charlotte Rowe. "It's very important that the garden doesn't let down the house, and, of course, it needs to look smart throughout the year."
Rowe is thrilled to see shrubs return to favor. "We often use dramatic cubes of beech and yew for creating structure and impact. We use a mix of Japanese holly (Ilex crenata) and Portuguese laurel (Prunus lusitanica) for cloud-planting, and we love multistemmed shrubs with a soft, umbrella-shaped form."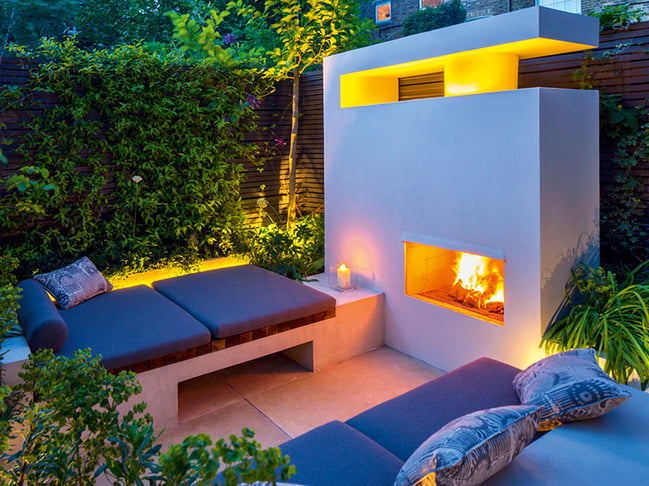 Boundary blurring
Today, the boundary between house and garden is beautifully blurred. The inclusion of elegant fireplaces, informal firepits, and high-performance outdoor kitchens allows the garden to be enjoyed all year round.
Smart technology is also playing its part, as well as enabling homeowners to manage their gardens remotely. One early adopter of garden technology is international landscape architect Hay Joung Hwang, who has a reputation for combining traditionalism with modernism in her designs.
"Already, technology is being used to increase crop yields in commercial agriculture, and decrease the manpower required to manage large estates and farms," she says. "Now, garden owners can use their smartphone or tablet to control elements of the garden, such as lighting and irrigation, or to check up on the health of their plants and the moisture content of the soil, without actually having to be there."
And as the indoors come out to play, produce from the garden is welcomed back in. Purely ornamental gardens are now less popular, with clients requesting vegetable plots, and even chicken runs and beehives.
Navid Mostatabi, from California-based Envision Landscape Studio, combines green thinking with luxe design and an emphasis on "interactivity." He incorporates vegetable beds into some three-quarters of his designs. "Creating an aesthetically pleasing landscape is really easy," he says.
"But it's not enough any more. We're trying to make it so people can produce something from their landscape, like food… not just fill it with a green lawn that looks nice, but doesn't produce anything."
Homes with Delightful Formal Gardens
Let the professionsals at Durham Bungalows help you find that home where you to can have the perfect garden!
source: http://luxurydefined.christiesrealestate.com/blog/luxury-lifestyle/how-does-your-garden-grow-trends